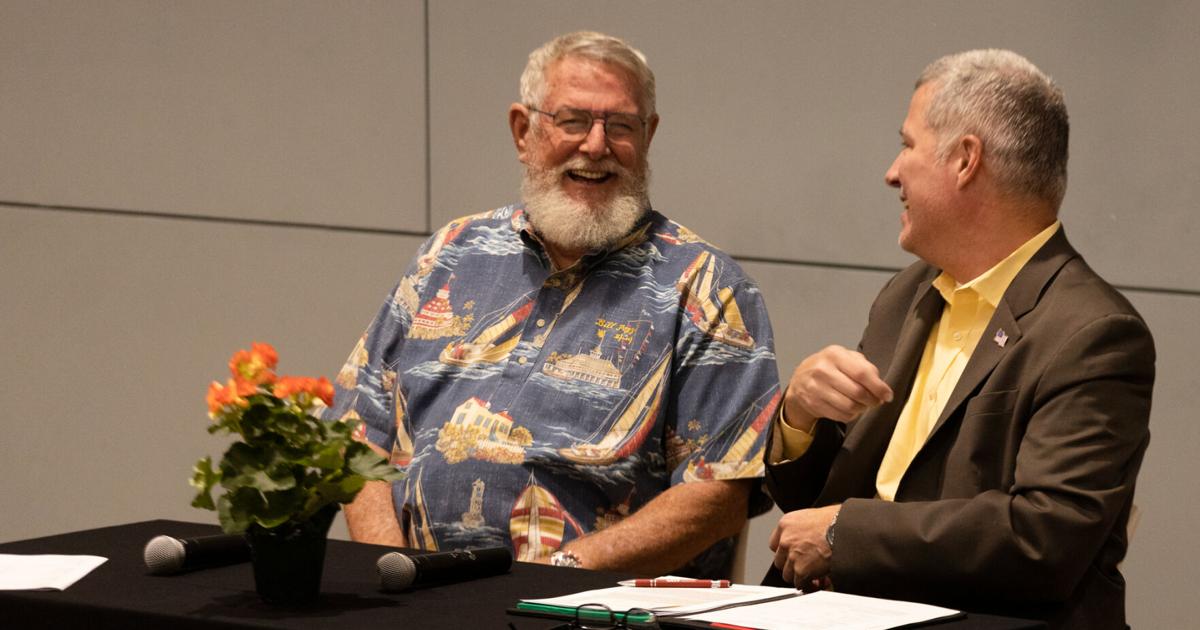 Victoria County political party chairmen debate issues and find common ground | New
Ahead of the midterm elections, Bill Pozzi, chairman of the Victoria County Republican Party, and Woodrow Wagner II, chairman of the Victoria County Democratic Party, had their talks debate with county presidents on Wednesday at the University of Houston-Victoria.
The event was hosted by UHV student organization The Association of Future Advocates, Leaders and Lawyers, and the two presidents not only spoke about local and national issues, but also stressed the importance of getting involved, especially in local politics.
Among the issues the two discussed were recent local events, such as the LGBTQ book controversies at the Victoria Public Library and County Judge Ben Zeller and the Victoria County Commissioners Court pulling funds from Be Well Victoria of a Victoria LGBTQ Pride event. They also addressed national and state issues of gun control, immigration and infrastructure.
In almost all respects, the two county chairmen were in agreement, the difference being how their party would approach the issues.
On infrastructure, the two presidents noted that the Democratic and Republican parties are bipartisan in trying to tackle the country's infrastructure, noting the bipartisan passage of the 2021 Investment and Jobs in infrastructure, which allocated funds to address the country's roads, bridges and broadband access.
Pozzi noted that he wishes more investment had gone into roads and would like to see more investment in the future, but Wagner pointed out that the bill deals with things that are not traditional infrastructure, like broadband internet, which has become critical during the COVID-19 pandemic.
On immigration, the two presidents said they do not support open borders or illegal immigration, nor the candidates they support.
Pozzi said there was a need to complete the border wall that began under former President Donald Trump and secure the remaining openings, noting that there are many people waiting a long time to come to the country than those who arrive illegally jump ahead.
While the wall as a solution is there, Wagner said it was necessary to go beyond that and address the root cause of why people who risk their lives come here illegally. This includes increasing funding so the immigration process doesn't take as long as agencies are understaffed and working with Latin American countries to explain why these people feel the need to flee.
On gun control, both agree there is something that needs to be done.
Pozzi said he thinks strict adherence to existing gun laws, including laws that bar felons, domestic abusers and people with documented histories of mental illness, will help. However, a gun registry would not help prevent shootings.
Wagner said he thought a broader discussion of the first half of the meaning of the Second Amendment was needed; just like other reasonable firearm regulations, since the amendment and the regulation are not mutually exclusive. If a settlement can be put in place to save just one child, it's worth it, he said.
On local issues, Pozzi didn't offer an opinion, but Wagner noted the importance of staying involved in your local politics.
For example, the local discussion around LGBTQ books at the library was the result of citizens showing up to meetings and making their voices heard. Only then did the commissioners' court and city council address it, Wagner said.
He also noted that being involved doesn't just mean voting. He also participates in the decision-making process of local officials, such as serving on a board of directors, he said.
Wagner and Pozzi talk to each other frequently and regularly help each other despite their differing viewpoints, they said.
"We have a relationship, and isn't that what we need if we're going to fix any of these issues," Wagner said. "It starts with a conversation."
Pozzi agreed, noting that if everyone got more involved in government, people would be much better off.
"The fact that we were able to have these two amazing community leaders here tonight and not just have a civil debate, but really relay information to our students about the importance of voting and that was a very special opportunity," Sarah Stanaland , Association of Future Advocates president, said. "We couldn't be happier with the evening.
The event gave some students a new perspective on how to participate in the political process, such as sophomore UHV nursing students Katelyn Dodds, 20, and Courtney Clarke, 23.
"We enjoyed seeing that it wasn't just a fight. We could see both sides of the coin and we could see they were in agreement on a lot of things," Dodds said.
Often in the media, politics is very divisive, Clarke said. However, seeing how the debate unfolded was refreshing and made him and Dodds want to get involved.
"I think coming tonight has definitely opened up my thought process a bit more," she said. "It was very different from what I expected. I love how they made it very welcoming.
Kyle Cotton was born and raised in San Antonio and graduated from San Antonio College and the University of Texas at Arlington. Cotton covered economic development, healthcare, finance, government, technology, oil and gas, and higher education.