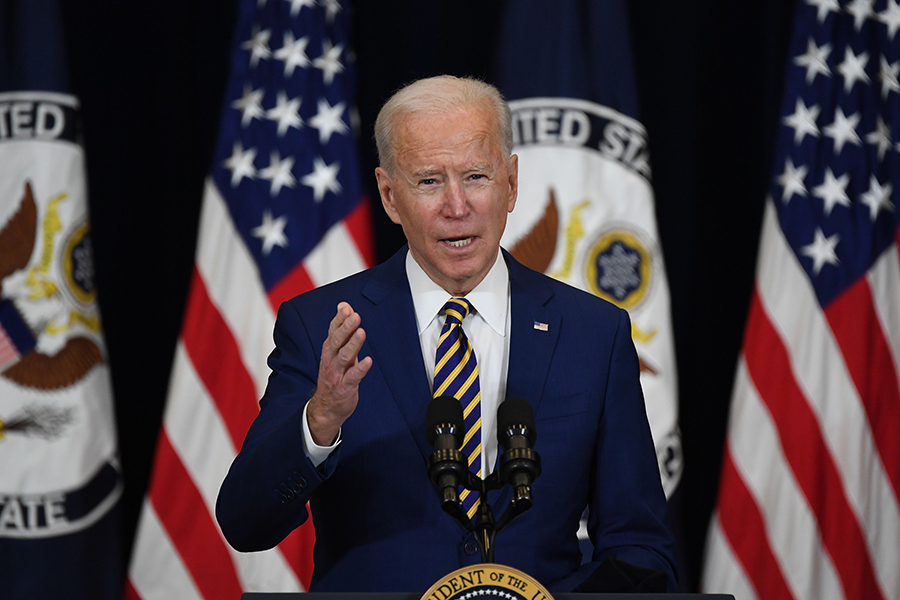 US pursues controversial arms assistance
November 2021
By William Ostermeyer and Jeff Abramson
Claims by President Joe Biden and administration officials that human rights are central to US foreign policy come under scrutiny as Washington continues to sell weapons and others security aids to some countries in the Middle East.
In his national speech in August marking the end of the US war in Afghanistan, Biden said, "I have made it clear that human rights will be at the center of our foreign policy. In September, when the administration withheld $ 130 million in security assistance to Egypt, State Department spokesman Ned Price said the United States would only release the funds "only if the Egyptian government responds affirmatively to specific human rights conditions ".
But the decision quickly drew criticism. Nineteen human rights organizations issued a letter on September 14, calling it a "betrayal" of Biden's commitment to human rights that "circumvents the intent of Congress." Instead, they argued, the administration should have withheld the full $ 300 million "to encourage [President Abdel Fattah] al-Sisi to change course.
In 2019, Congress conditioned $ 300 million of the $ 1.3 billion in foreign military funding granted to Cairo on condition that the Secretary of State certify that Egypt was taking measures such as investigations and prosecutions. on extrajudicial executions and the release of political prisoners.
The decision to send $ 170 million of the $ 300 million in security aid was not accompanied by such certification. Instead, the administration argued that the entire $ 300 million fell into a category of funding border security, non-proliferation and counterterrorism programs to which the law did not apply. . The Senate Appropriation Committee removed the provision that allowed for this interpretation in its recently introduced annual bill.
In September, the State Department also notified Congress of a potential foreign military sale of $ 500 million to Saudi Arabia for servicing various Saudi helicopters, including the AH-64 Apache attack helicopters. Some experts said this contradicted Biden's promise to end "all US support for offensive operations in the Yemen war, including relevant arms sales." As an example, National Security Advisor Jake Sullivan told a press conference on Feb.4 that the policy applies to precision guided munitions approved by the Trump administration. On October 27, a State Department spokesperson told Arms Control Today in an email that the maintenance of the helicopter was in line with the administration's approach to human rights. The spokesperson said that this "helped Saudi Arabia maintain its self-defense capabilities … especially at its border", and that the administration had found "the overwhelming majority of [civilian harm] incidents were caused
by air-to-ground munitions from fixed-wing aircraft.
The administration has, however, been criticized for supporting Saudi Arabia through pre-existing supply and maintenance contracts. In September, the House approved an amendment, sponsored by Representative Ro Khanna (D-Calif.), To the National Defense Authorization Act that would prohibit the maintenance support of fighter jets used in Yemen against Houthis. "It is time to do what is morally right, to hold Saudi Arabia to account and to end US complicity in the bombing of Yemeni civilians by the Saudi-led coalition," Khanna said.
On October 13, Secretary of State Antony Blinken met with the foreign ministers of Israel and the United Arab Emirates, two American arms recipients who have been criticized for their human rights record, and spoke positively of the Abrahamic Accords of 2020, which helped normalize relations between them. At their joint press conference, Blinken did not say whether the administration could rethink controversial arms sales to the UAE linked to the deals, including F-35s worth $ 10 billion. The administration has said it wants to secure the F-35 deal, but in a way that respects human rights. (See ACT, May 2021.) The UAE has come under fire for its misuse of weapons in Yemen and its own human rights record.
Although Biden has at times spoken candidly about Washington's Arab allies, his rhetoric about Israel has been less critical. Rather, efforts to reduce or criticize US material support for Israel on human rights issues have come from Congress.
In May, as hostilities escalated in Gaza, members of Congress introduced disapproving resolutions to block a direct commercial sale of precision-guided munitions to Israel worth $ 735 million. (See ACT, June 2021.) In the end, no votes were taken, and the administration moved the sale forward. In July, the State Department informed Congress of another Israel-related sale totaling $ 3.4 billion for 18 cargo helicopters and related equipment.
On September 21, House Democrats, responding to progressive members, removed a provision from a funding bill that would have provided $ 1 billion for Israel's Iron Dome air defense system. Democrats on the House Appropriations Committee then introduced a separate bill to fund the system, which passed the House by 420 to 9 votes on September 23. The bill hit a roadblock in the Senate on October 4, when Senator Rand Paul (R-Ky.) Objected to a request for unanimous consent from Senator Bob Menendez (DN.J.) to proceed. Funding should be approved and Paul supports the system, but he wanted the money to come from another account.
While there are precedents for Congress expressing concern over arms sales to Israel and other countries in the Middle East, the relationship between arms transfers and human rights is making the point. subject to scrutiny. An expected revised conventional arms transfer policy could make more explicit how the administration weighs human rights in arms sales decisions. (See ACT, October 2021.)