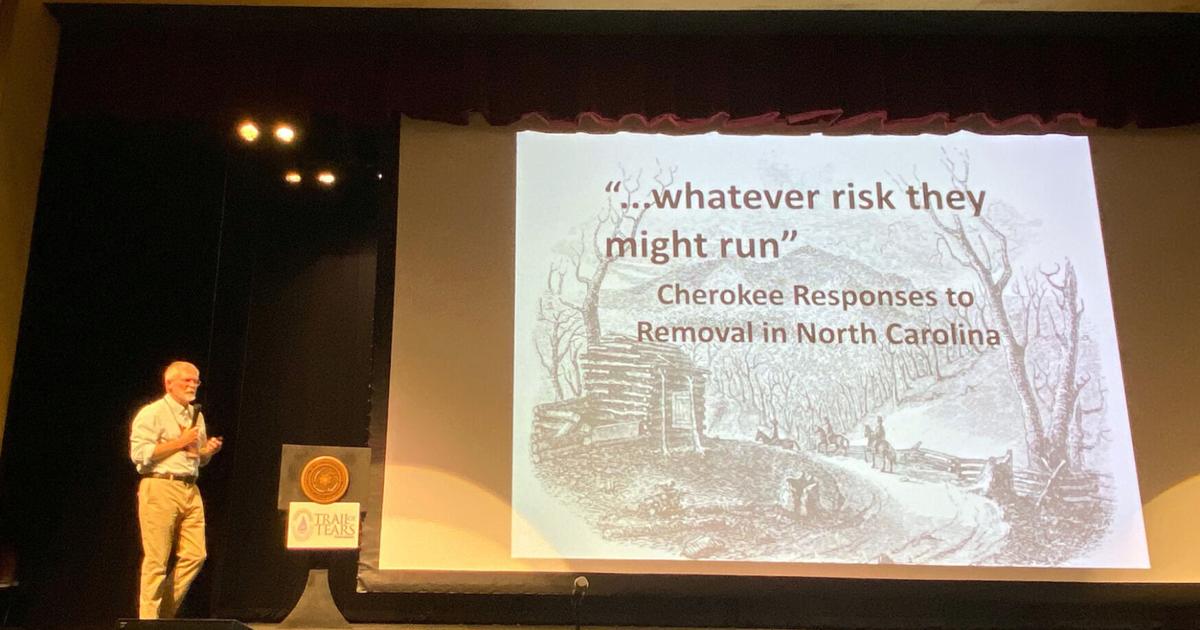 Trail of Tears Association holds conference after two-year hiatus | Culture
CHEROKEE, North Carolina – After a two-year wait to hold its next conference, the Trail of Tears Association met in Cherokee, North Carolina, September 19-21.
The association includes nine state chapters including Oklahoma, Arkansas, Missouri, Illinois, Kentucky, Tennessee, Alabama, Georgia and North Carolina, which were unable to meet in 2020 and 2021 due to the COVID-19 outbreak. Conference attendees were able to visit historic sites in the area, watch a Cherokee fashion show, and hear historians share information about the Cherokee and Muscogee (Creek) removals from their southeast homelands.
Trail of Tears executive director Troy Poteete said the conference was not intended to "shame or blame" anyone for the Trail of Tears, and he added that no one in life today is not to blame for the forced expulsion of Aboriginal people from their homeland nearly 200 years ago.
"We do this because it's an opportunity for us to tell the world, 'Our ancestors persevered.' They had tenacity and resilience. They refused to be victims and they rebuilt the Cherokee Nation. Some of them rose up in those mountains and held the community together, and today they form the Eastern Band (of the Cherokee Indians)," he said. "We draw inspiration from what happened so long ago and how they overcame it and held our tribe together as a cultural and political entity, and look at us now. "
Poteete thanked the volunteers across the country and members of the nine state chapters of the Trail of Tears Association who work with the tribes and the National Park Service to mark the trails used by the five tribes from their homelands. southeast to Indian Territory, now Oklahoma.
"We certainly didn't have the manpower ourselves to go out and figure out where these roads were going or to interface with local communities so we could put interpretive material in museums and on the edges drive across the country. We cannot do it ourselves. We are able to do this because we have so many good partners," he said. "What the Trail of Tears association does is bring together a lot of very good partners."
National Trail of Tears Association president Jack Baker said work has been underway since the late 1980s to mark the removal trails with trail signs and interpretive signs.
"When the National Park Service first started marking the trails, there were only two signs from east to west, and that was at the Trail of Tears Park in Hopkinsville, Kentucky, and at the Trail of Tears State Park in Cape Girardeau, (Missouri)," Boulanger said. "You as a (TOTA) member have done a fantastic job marking the trails because now on any segment of the trail you can go find interpretive signs and find certified sites. So I think you should all applaud yourselves for all that you have accomplished. I just wanted to thank you for everything you did because you are the ones who did the job.
Baker said citizens of the Cherokee Nation who attended the TOTA conference were able to return to their home countries, particularly to their "mother town" of Kituwah.
"That's where they come from, that's where the Cherokee come from. That was our home and still is our home in many ways," he said.
The important part of the Trail of Tears conference is "to inform people in more detail about the Cherokee pullout and its various aspects. Also, not just the Cherokee kidnapping, the kidnappings of other tribes. For example, someone discussed the Muscogee nation pullout, and we try to include more tribal pullouts in our conferences, but since this one is in Cherokee, it's more about the Cherokee pullout.
Senior Chief of the Eastern Band of Cherokee Indians, Richard Sneed, was unable to attend the conference to welcome attendees as scheduled. Executive Director of the Museum of the Cherokee Indian Shana Bushyhead Condill read a speech for Sneed to TOTA attendees during the conference's opening ceremony.
"The value and importance of the association's work to the accurate record of history cannot be overstated. I say this because we now find ourselves in a time when truth seems to have become subjective. A time when even recorded history can be questioned or even denied," Sneed wrote. "It is imperative that the Trail of Tears Association ensures that the record of what was done to the First Nations of the Southeastern United States remains as relevant a story today as it was a short time ago. is 180 years old. It is equally important that the story told about these events is accurate and supported by evidence in the form of historical documentation.
During the TOTA conference, Sneed was in Tulalip, Washington, helping maintain the tribal sovereignty of the tribes in that state. He added that the three federally recognized Cherokee tribes must constantly defend their sovereignty and protect their identity from groups claiming to be historic Cherokee tribes.
"We have spent literally millions of dollars over the past decades fighting these groups who seek to rewrite history and insert themselves into the historical narrative of a persecuted tribe in order to enhance their ability to seek federal recognition" , wrote Sneed.
The Office of Federal Acknowledgment was established in 1978 by Congress to review the claims of groups seeking federal recognition as a tribe. However, Sneed said, "year after year" members of Congress entertain groups "who in some cases cannot demonstrate any Native ancestry."
"This happens every time a member of Congress sponsors a bill to recognize a group at the federal level while bypassing the all-important vetting process provided by the OFA," Sneed wrote. "For the past two years, the Eastern Band has been sounding the alarm bells across Indian Country, using the same four pillars of the Trail of Tears – Identification, Preservation, Protection and Awareness. We identify groups that falsely claim to be a tribe, we preserve the integrity of the federal recognition process, we protect our culture from misappropriation, and we educate tribal nations that our collective identity is being stolen and our sovereignty is slowly being being eroded. For all you do, I thank you and salute you.