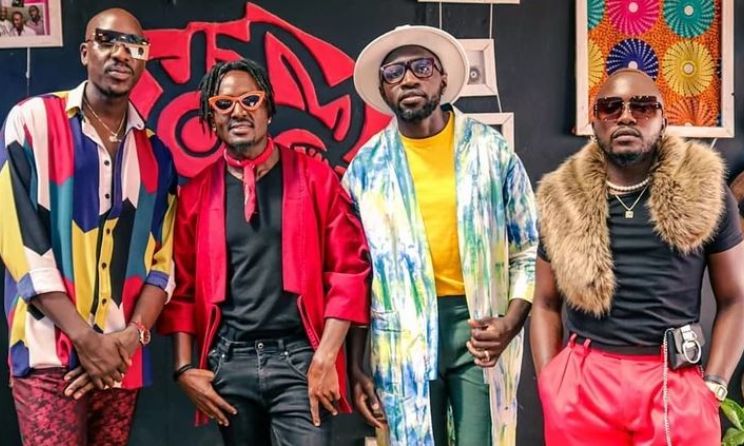 Kenya: Sauti Sol clashes with political party over use of song
In a statement posted Monday evening on their social media accounts, the Kenyan band accused Azimio La Umoja, a coalition of political parties formed ahead of the August 9 general election, of using one of their songs in one of their campaigns. without their consent.
Sauti Sol said Azimio La Umoja, led by veteran politician and former Kenyan Prime Minister Raila Odinga, used his single "Extravaganza" to promote the unveiling of Odinga's presidential running mate Martha Karua on Monday on the coalition social media accounts.
The statement signed by band members Bien-Aimé Baraza, Willis Chimano, Polycarp Otieno and Savara Mudigi states that the band did not license the song to the Azimio la Umoja campaign team.
"We have given no consent for its use in their vice-presidential candidate announcement. Also, our permission to use the composition, which is one of our most distinct compositions, has not been granted. been neither requested nor given," Sauti Sol said. "The use of our song 'Extravaganza' without our consent constitutes a gross violation of copyright, pursuant to Section 35, CAP 170 of the Copyright Act. authorship from Kenya."
"Extravaganza" was released on May 29, 2019 and features Bensoul, Nviiri the Storyteller, Crystal Asige and Kaskazini.
The group has also distanced itself from the said political alliance and indeed from any other political grouping. "We want to make it very clear to our fans, partners and associates that we are neither aligned nor associated with Azimio La Umoja, nor any other political movement and/or party of their presidential aspirants, vice-presidential aspirants , and candidates in general. We are completely apolitical.
"We are disappointed by the Azimio la Umoja campaign's blatant disregard for our right to control the use of our copyrights, and we will seek legal remedy for this gross violation of our copyrights" , signed Sauti Sol.
The development comes just a week after Azimio La Umoja presidential candidate Odinga reportedly paid the Music Copyright Society of Kenya (MCSK) Ksh562,500 (around $4,800) to distribute to artists whose music they will use. in their campaigns.
Copyright and intellectual property violations in Kenya are quite widespread, with most of the public unaware of both the laws and the consequences the vice has on the creative industry.
Kenyan musicians have also been complaining about the mismanagement of Collective Management Organizations (CMOs) for decades. In 2020, the Kenya Copyright Board published the findings of a forensic audit covering the period 2017-2019, during which it revealed systemic inefficiencies in Kenya's three licensed CMOs – Performers Rights Society of Kenya (PRISK) , the MCSK and the Kenya Association of Music. Producers (KAMP) – including negligence, royalty embezzlement, fraudulent transactions, phantom and duplicate members, non-compliance, poor corporate governance and policy violations, among others.