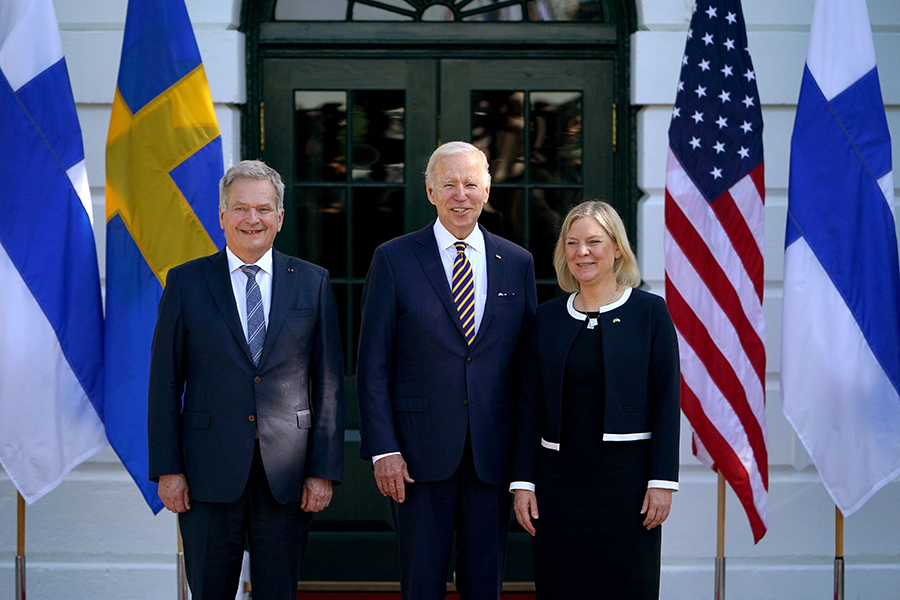 Finland and Sweden apply to join NATO
June 2022
By Gabriela Rosa Hernandez
Finland and Sweden have applied to join NATO, abandoning their longstanding military neutrality in the face of Russia's unprovoked war against Ukraine. The May 18 decision signals an expected expansion of the alliance in ways that would have been unthinkable just a few months ago. It is widely seen as a political defeat for Russian President Vladimir Putin, who for years worked hard to tear the alliance apart and insisted no new members be added.
Sweden declared its intention to apply for NATO membership on May 15, shortly after Finland confirmed its decision. Three days later, the countries submitted formal requests to NATO headquarters in Brussels.
All 30 NATO members must approve new allies, a process that could take up to a year. In a surprising development, Hungary and Turkey, two authoritarian-ruled NATO countries, raised objections to membership applications in what diplomatic sources described as an apparent attempt to extract reasoned political concessions. by their national interests and their desire to perform in front of a national audience.
US and European officials said they were confident that any differences could be resolved. NATO Secretary General Jens Stoltenberg said May 15 that the membership process could be very quick, according to media reports, and that US officials acted as if the deal was done. But Hungarian and Turkish obstructions cloud the historic northern turn.
US President Joe Biden decided to speed up the process and boost acceptance by inviting Finnish President Sauli Niinisto and Swedish Prime Minister Magdalena Andersson to the White House on May 19. At a ceremony in the Rose Garden of the White House, he said he was immediately submitting to the Senate the treaty language needed to make the two countries new members of the alliance.
"Finland and Sweden are strengthening NATO," Biden said. "These are strong, strong democracies, and a strong, united NATO is the foundation of American security."
Biden warned Russia that the United States would "deter and confront any aggression while Finland and Sweden are in this process of joining" before they are officially accepted into an alliance whose main commitment is that "An attack on one is an attack on all". Although Biden's pledge is far from a treaty, US National Security Advisor Jake Sullivan said on May 18 that the United States "will not tolerate any aggression against Finland or Sweden during this process".
At the White House, Andersson said that "Russia's large-scale aggression against a sovereign and democratic neighbor…was a watershed moment for Sweden, and my government came to the conclusion that the security of the people Sweden will be better protected within NATO". Alliance."
Finland and Sweden were unaligned during the Cold War and maintained formal military neutrality even as their armed forces contributed to Western operations. Both countries are considered NATO's closest geopolitical partners, possessing vibrant democracies, strong economies and capable militaries. Since Russia invaded Ukraine and upended European stability, Finland and Sweden have become increasingly unsettled by the Russian threat and have seen a stunning increase in support from their politicians and public to seek security. in the covenant.
As recently as March 8, two weeks after the invasion began, Andersson, Sweden's social democrat leader, said her party was opposed to NATO membership. Sweden consulted closely during the decision-making process with Finland, which led the way on the NATO issue.
"Military non-alignment has served Sweden well, but our conclusion is that it will not serve us as well in the future," Andersson said at a May 15 press conference in Stockholm announcing the decision. of his country within NATO. "This is not a decision to be taken lightly.
Turkish President Recep Tayyip Erdoğan said Turkey's objection stemmed from opposition to Sweden and, to a lesser extent, Finland's perceived support for the banned Kurdistan Workers' Party, or PKK, and a armed group in Syria that Turkey considers an extension of the PKK. . Ankara's conflict with the PKK, a Turkish separatist group, has killed tens of thousands of people since 1984.
Putin has long opposed NATO and, before the invasion, demanded that the alliance stop adding new members.
Russia reacted to the Finnish and Swedish decisions by threatening retaliation, including unspecified "military-technical measures", Reuters reported. Still, Niniisto spoke to Putin on May 14 and later said their conversation was measured and contained no threats. "He confirmed that he thought [the decision to join NATO is] a mistake. We are not threatening you. Overall the discussion was very, might I say, calm and cool," Niinisto said in an interview with CNN. The Kremlin called the swap a franc and said the shift in foreign policy could negatively affect Finnish-Russian relations.
On May 16, Putin said in his speech at the Collective Security Treaty Organization summit that Finland and Sweden joining NATO would not in itself pose a direct threat to Russia, but that the expansion of NATO's military infrastructure in these countries would certainly provoke a response. Earlier, Kremlin press secretary Dmitry Peskov told Kommersant that "NATO's upcoming expansion will not make our continent more stable and secure" and will require Russia to undertake "special analysis and development of necessary measures to balance the situation and ensure our safety.