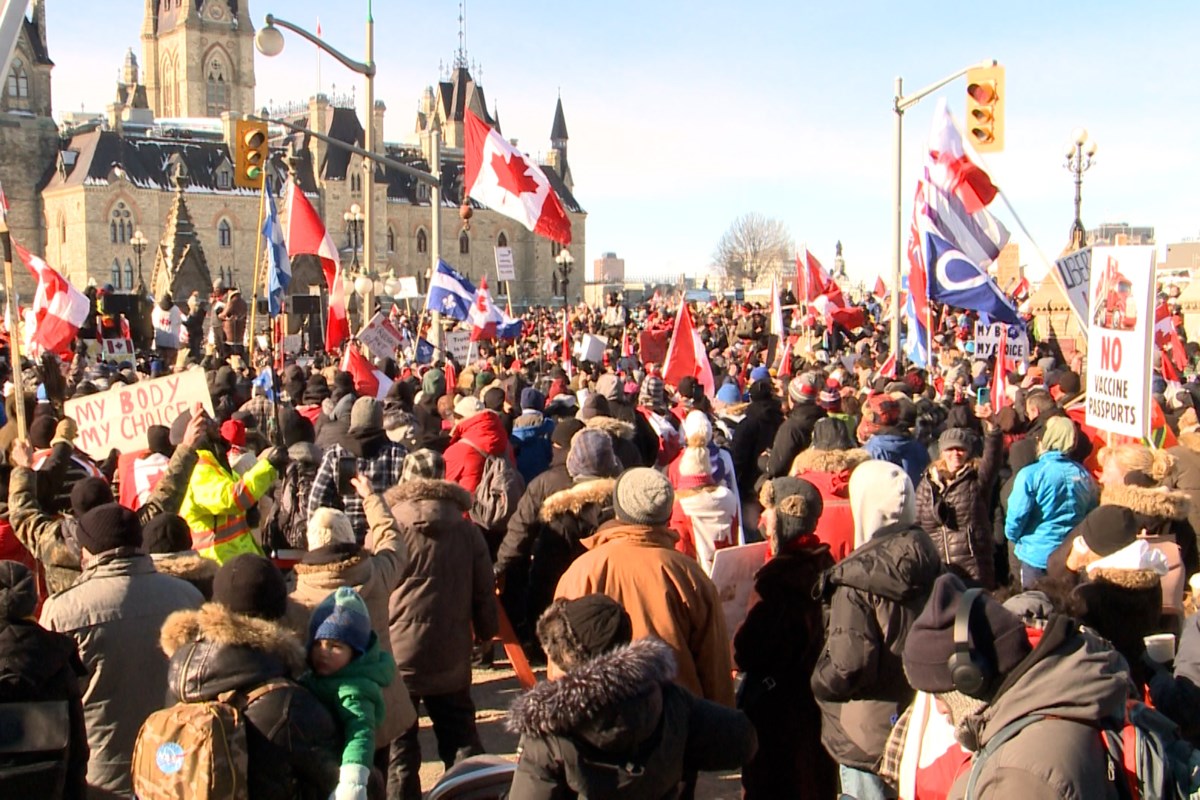 Community association feels 'abandoned' by city and police amid Ottawa protests
A letter from the Centretown Community Association expresses concern over the city's "appalling failure to protect and support" residents amid the "Freedom Convoy" protests.
A local community association feels "let down" by the city and its police force, citing a "failure to protect and support" residents amid protests in downtown Ottawa.
On Sunday, February 6, the Centretown Community Association (CCA) wrote a three-page letter to Mayor Jim Watson and Ottawa Police Service (OPS) Chief Peter Sloly regarding the "unlawful occupation" of protests in convoy of truckers.
"Our members feel increasingly abandoned by the City of Ottawa and the Ottawa Police Services," reads the letter, written by ACC President Mary Huang. "Trust in both institutions continues to erode. The current situation has worsened due to the complete failure of the police and the city to properly plan and manage this situation."
Images of the 3-page letter to @JimWatsonOttawa and @OPSChiefSloly about #Freedomconvoy #OttawaOccupation. Please like and retweet if you agree with the letter.https://t.co/9L6YwXwH2n pic.twitter.com/Yob0m5QOjC

— Downtown Community Association (@CentretownCCA) February 6, 2022
In the letter, Huang said the occupation of the "Freedom Convoy" protesters was "entirely foreseeable" because mainstream media widely reported the protesters' intention to take over Ottawa and their demands were widely shared.
Additionally, she cited that the organizers of the "Freedom Convoy" protest were well known to be involved with extremist political organizations and groups that promote racist and anti-2SLGBTQ+ hatred.
"Basically, they're really trying to intimidate and cause as much chaos as possible," Huang told CityNews Ottawa. "This is not a peaceful protest."
Huang said in his letter that the "Freedom Convoy" protesters were not peaceful due to instances of residents being heckled and allegedly assaulted, forcing businesses to temporarily close, displaying various hate symbols and flouting noise regulations, among other reasons.
Additionally, she wrote that services such as libraries have been forced to close temporarily, paramedics have been racially slurred and rock thrown, and some community workers have been harassed.
"Despite all of this, the city and the police failed to put in place a plan to effectively deal with these occupants," Huang wrote. "For example, the police and the city could have closed off parts of downtown near Parliament Hill and prevented any vehicles from entering that area before occupants arrived, as is commonly done during major protests. are planned and as Toronto does."
Huang told CityNews Ottawa that the CCA hears complaints from downtown residents — especially those who live near Parliament Hill — about the "incessant noise" and diesel fumes at 2 a.m. .
She added that one solution is for all levels of government to step up and take leadership – especially if people want to see a reduced impact on residents.
"I don't see much leadership right now across the three levels of government," Huang said. "If you can't lead, put someone on your team who can do it and can solve it."
On top of that, she said people shouldn't ask other groups to take responsibility. Instead, people should "use every tool in everyone's toolbox together."
His letter calls on the city and the OPS to take immediate action to protect downtown residents by enforcing applicable regulations, obtaining court injunctions to clean up residential areas, working to contain protests and ensuring that no other vehicle can join the demonstrations.
She also calls for an apology to residents for "mishandling the situation" and failing to protect local communities.
Other groups have also recently written letters regarding the ongoing "Freedom Convoy" protests.
Dr. Nili Kaplan-Myrth launched an open letter on Saturday February 5 for healthcare workers to sign, promising not to let misinformation, violence and threats undermine science and patient care.
With files by Perushka Gopalkista